I have Tree Butchers in my backyard cutting down a 4-story tall Redwood tree....it's noisy work and the dogs think that these men are going to turn their chainsaws on us, so they keep barking and whining. I can't sleep, so I thought I would share a little bit of what I got/gave for Christmas, show you how awesome Mr. Misha is and get your thoughts on gift giving and recieving!

As a little kid, Christmas was all about family, food and presents. As a teen, it became just another day in my angst riddled life. As a young adult and new nurse, I started to get into Christmas again. I had the funds to buy presents. I had a home of my own to decorate, an address to send Christmas cards from. Unfortunately, I also had a job that required me to work on holidays. The holidays were better, but it just wasn't as great as it had been when I was a kid.

Then I met Mr. Misha and it came full circle, once again was about family, food and presents. But instead of being about
getting
presents, it became about
giving
them. I love buying for all of the nieces and nephews. I like finding something his mother will love. I like the look on Paul's face when he opens his gift. This year, I got him ...
Ibanez V Series V70CE Dreadnought Cutaway Acoustic-Electric Guitar
My filming, Polish translating and movie editing techniques leave much to be desired,
but you get the idea. A good time was had by all.
Because I don't like to open presents in front of everyone, Paul gave me my present when we were at home, just us and the pooches. It was a musically themed Christmas for the Misha's, cuz I got this: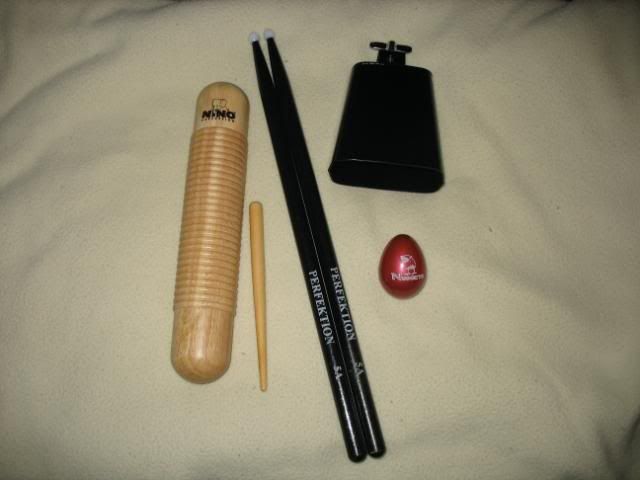 So now my instrument collection now consists of all of this:
I wonder where one goes for adult triangle/tambourine/guiro/cowbell/percussion egg lessons? What I lack in rhythm and technique...I make up for in enthusiasm!

Mr. Misha also gave me a 1GB memory card for my camera. I won't go through every gift exchanged, but I have to show you one more....

In an effort to get me to clean more, my mom gave me these really cool rubber gloves.


So are you weird like me and get embarrassed opening your presents in front of everyone?

Do you tear open the wrapping or carefully unwrap your gifts?

Whaddya get from Santa? For Channukah?

What was your favorite gift you gave?

Is it better to give or recieve?