I just got back from my weekend with the Hoz. We stayed in a little house in Gurneville, near the Russian River. We never left the house. The six of us ate, drank and laughed from Friday night till Sunday brunch. I laughed so much my cheeks and sides ache.
This get together was long overdue, since we had not gone a trip together since 2002. What a blast. My shoulder/neck injury did not bother me too much. The HOZ were awesome and didn't let me do anything except relax and have fun.
Here are the HOZ (I was taking the picture and couldn't figure out how to use the timer on my camera):
Here I am, hungover and exhausted, eating a Pop Tart and drinking coffee out of my new mug: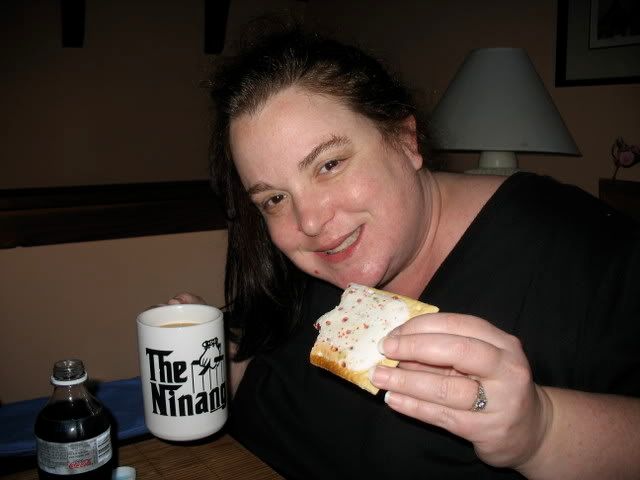 The mug was a present from my Goddaughter, Gwenivere.Ninang means Godmother in Tagalog.

Two days of Mimosas in the morning, Appletinis in the afternoon, wine with dinner and White Russians for nightcaps definitely had an adverse effect on my exterior.

The 40 hours of laughter and good friends has done WONDERS for my interior. I feel like the happy Misha I was 30 days ago.

I hope to have more pictures (maybe some video) and some great stories posted later on.

Hope everyone has a great week!