(Blogging under the influence)
While it technically is the 21st, I have not gone to bed yet and in my tipsy state, it is still my birthday. I just turned 39. Thanks to everyone for the lovely birthday comments, messages, emails, voicemails, calls, carrier pigeon notes, etc.
Sleazy Bastard and his Kool-Aid started off the festivities with a giggling middle of the night call. It was wonderful to finally hear Kool-Aid's voice along with the much-missed laughter of my favorite Sleazy Bastard. Thank you guys!
Several hours later, the family phone calls started. My mom called me. I think she forgot why she was calling me. Instead of starting off with the obligatory "Happy Birthday", she spent a good 15 minutes telling me about how much clearer her vision is since she had cataract/vision correction surgery on her eye on Friday. Yes, I said eye. My mom has a prosthetic eye and a "real" eye. While she was yammering on and on about how she now could buy "fun" sunglasses and "wild" reading glasses, I kind of zoned out. When she started to describe the neighbor's house in detail to me, I tuned back in and realized how impaired her vision was prior to the surgery. She has been averaging about 1.5 car accidents per year...I thought she was a spaz and a crappy driver. Now I know she is a spaz, a crappy driver and was practically blind! Before she ended the call she remembered to wish me a happy birthday and I thanked her for giving birth to me.
The next phone call was from my sweet, Polish, mother-in-law. I love this woman. She is the best mother-in-law in the whole world. This is how the conversation went:
Me: Hello Mamcia!Her: Hall-o Mee shell. Haappee Birsday Sweetee. I love you Hunee. Oh Hunee, I vaz so seek and I have you card, but I deed not send. I hope you forgeeve me, Hunee.Me: Oh Mamcia, I love you. Don't worry about the card, the call from you is all I need.Her: But Hunee, I feels so badt. I did not send card.Me: Mamusia, it is okay. It is good to hear your voice. Are you getting better?
She then went on to tell me about her cold and her doctor for about 5 minutes. Then she changed the subject.
Her: So, Mee Shell. Tell me. How many spring has zit bean?Me: Pardon?Her: How many spring have you had Hunee?Me: Oh! This will be my 39th spring.Her: Ahhh. Zis iz zee last spring for you Hunee. Zen you will be no spring cheekun!
Later in the afternoon, we went to Mr. Misha's oldest brother's house for my birthday celebration. Because it was my day, I got to use this plate:
We had a lovely dinner and then it was time for cake. Bob lit my candles:
It was a lovely cake. Chocolate, my favorite with purple candles, my favorite color: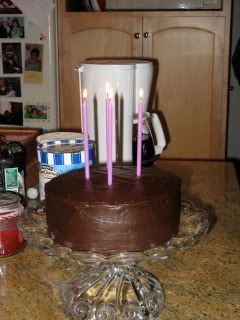 We had cake and ice cream, I opened my presents and then we went back to our house to meet up with our friends, Mike and Deb.
We went to San Francisco and saw The Late Late Show's Craig Ferguson
.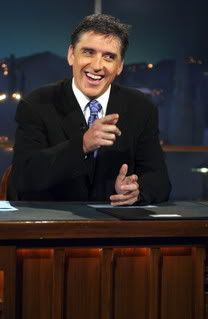 He was hysterical. After, we went to a bar in North Beach and had some cocktails. Then we went to Burgermeister and had yummy burgers, garlic fries and beer. Then we came home. It was a wonderful birthday.

++++++++++++++++++++++++++++++++++

I want to warn all of you that on Tuesday, January 22nd, I will be participating in "BLOGGING FOR CHOICE DAY". It won't be funny. It will be long. If you choose to comment, please be respectful and polite and I will do the same. Please do not post graphic photos. I am a believer of the first amendment, but I will delete abusive, hateful or offensive comments. If this topic is upsetting for you, for whatever reason, just skip my blog post on that day.