Originally posted on Thursday November 8th @ 11 am PST.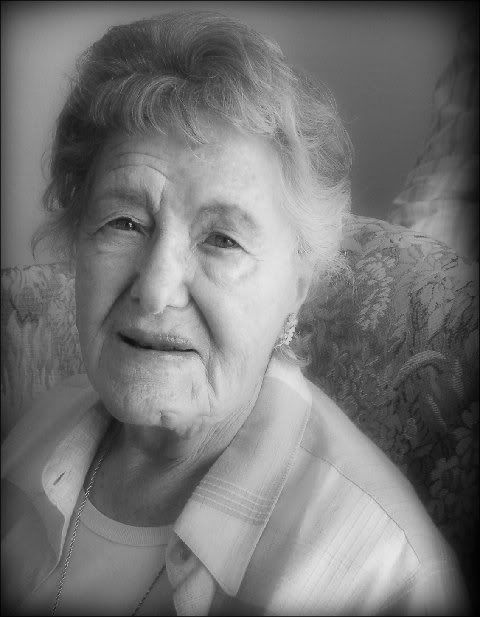 This is Cornelia. But no one calls her that. She was the youngest child in her family, so everyone just calls her "Babe". Her parents are from Northern Italy. "So far north, we are practically Swiss!" as she would say. Her parent's immigrated to the US and settled on the coast of Northern California. Her family struggled through the depression and Babe left school in her early teens to work. She cooked for the cowboys at the ranch where her older brothers worked. Babe married in her late teens and had two children, a girl and then a boy. Her daughter had two children; both of them are good friends. Her grandchildren have given her three beautiful granddaughters. Babe outlived two husbands, her son and all of her siblings except one of her sisters.
How do I know all of this?
Well, for the past 4 years she has been my neighbor. Her family bought the duplex next to Babe's so she could have someone she knew to keep an eye on her. It just happened to be at the time when Paul and I got engaged and were looking for a place to live. It was a good deal for both parties and Paul and I moved in about 2 hours after her granddaughter got the keys. For the most part, it was a pretty easy gig. Until this year.
After 70+ years of living on her own and by her own rules, Babe's mind started to give out on her. It started off with harmless absent-mindedness that is to be expected in an octogenarian and escalated to where she could not be left alone. When Babe stopped driving, one of the things she really missed was breakfast at IHOP. When my husband Paul found this out, he set out to remedy that. That started our somewhat weekly "Breakfast with Babe".
I would get off work in the morning and stop by Babe's to see if she was up. Most of the time, not only would she be up, but she would be dressed, lipstick on, hair combed, purse on her lap and cane in her hand and sitting in her chair waiting. I would wake up Paul and then go get the car. Paul would walk Babe to the car and get her buckled in the front seat and we would take off.
When we would arrive, Paul would open her door and help her get out. Seeing him dote on her and help her was so sweet. She loved the attention and it made Paul feel good too. When we would get into IHOP, we were immediately greeted. The hostess, the wait staff, and the bus staff...they all knew Babe by name. Despite that she could not remember most things, she knew all of their names too. They all welcomed her with hugs and kisses. Paul immediately dubbed Babe, "The Duchess of IHOP". It didn't matter how many people were waiting for a table, we were always seated immediately.
After a few times there, they knew our preferences too. We wanted to sit at a table, not a booth. Babe would have coffee, Paul a Diet Pepsi and water for me until I made up my mind. Babe would have the "International Passport" with Swedish Pancakes and Lingonberries. Paul would have the Spinach and Mushroom omelet with griddlecakes. I was always the hold-up; I never found my regular dish.
While we ate, Babe would tell us stories about her life. The same stories, OVER AND OVER. Paul and I can recite the directions to her parent's hometowns. We know the stories of her romance and married life with her first husband. We can tell you all about her life on the farm, her son who loved to swim and how wonderful her granddaughters are.
The trip home from IHOP was pleasant and usually was capped off with Babe trying to pick up on Paul. My favorite Babe pick up line was: "Next time, I will pay for breakfast! Or...Paul, you and I could work it out in trade". Paul would just smile, let her take his arm as he walked her home and then give her a kiss on the cheek before he left.
We haven't gone to IHOP with Babe since September. We tried to go last week, but she wasn't up to it. Father Sean came and gave Babe The Sacrament of the Sick yesterday. The hospice nurse is coming in a few hours. The fact that Babe is passing away isn't surprising, she is 86.
I just wish we could have had one more "Breakfast with Babe".
UPDATE, Thursday 11/8 @ 2pm PST:Babe just passed away a few hours ago, peacefully in her sleep.
Thanks to all of you for your kind words. Please keep her family in your thoughts over the next few days.